Are you tired of game latency affecting your gaming performance? GearUP Game Booster is the ultimate solution, promising to elevate your gaming experience by minimizing lag and unlocking your real gaming potential. With a focus on maximum performance, this app utilizes patented server technology to optimize your device's network environment, ensuring a smoother and more responsive gaming session.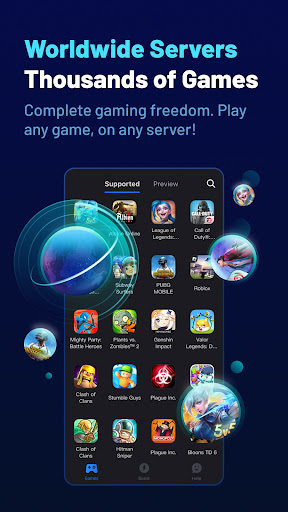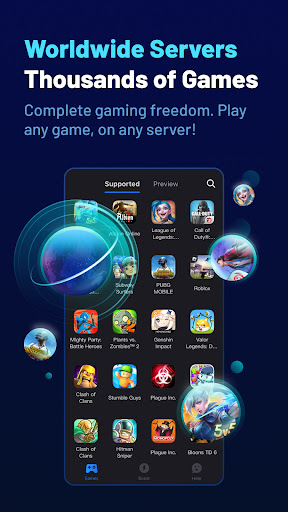 App Features:
1.GearUP Game Booster stands out for its ability to significantly reduce game lag. Through the integration of real, patented server technology, the app creates an optimized network environment tailored to enhance the performance of your device. Say goodbye to frustrating lags and delays, and experience games at their full potential.
2.Unlike conventional game boosters, GearUP utilizes proprietary server technology that sets it apart from the competition. This patented approach ensures a unique and effective solution to minimize latency, providing users with a distinct advantage in online gaming scenarios.
App Highlights:
1.Stay informed about your network performance with GearUP's real-time lag monitoring feature. The app provides users with detailed insights into their network status, highlighting areas that may be contributing to lag. This transparency empowers gamers to make informed decisions to further optimize their gaming experience.
2.GearUP's user-friendly interface makes it easy for both novice and experienced gamers to navigate the app effortlessly. The intuitive design ensures that optimizing your gaming experience is a straightforward process, allowing you to focus on what matters most – playing your favorite games without interruptions.
In Conclusion:
GearUP Game Booster: Lower Lag app is a comprehensive solution for gamers seeking to elevate their gaming experience. With its focus on maximum performance, patented server technology, real-time lag monitoring, intuitive user interface, customizable settings, resource management, and broad device compatibility, GearUP stands out as a versatile and effective game booster. Say goodbye to game latency and embrace the true potential of your gaming sessions with GearUP Game Booster.