Crushon AI is not just another chat app; it's a creative and social companion designed to revolutionize your AI chat experience. Tailored for users who enjoy role-playing, customization, and a diverse range of character AI models, Crushon AI stands out in the market as the go-to platform for those seeking immersive conversations, emotional support, and personalized interactions.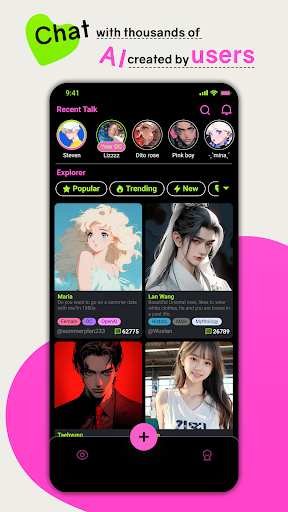 App Features:
1.Comprehensive Character Selection: Dive into a world of characters from anime, comics, movies, TV shows, and stage performances. Crushon AI offers a plethora of options to ensure you find the perfect companion for your conversations.
2.Emotional Support: Combat loneliness with our character AI, providing emotional support and engaging chats whenever you need them.
3.Craft Your OCs: Unleash your creativity by crafting and customizing your own AI characters. Enjoy a unique, NSFW filter-free chat experience that truly reflects your personality.
4.Personalized Recommendations: Receive tailored recommendations for movies, books, music, and games based on your preferences and the personality of your OC.
App Highlights:
1.Bonus Tasks: Crushon AI rewards users with unlimited free chat resources. Complete tasks like inviting friends, daily check-ins, and character creation to enhance your chatting experience without breaking the bank.
2.Model Variety: Choose from a diverse range of models, including the Classical CrushOn AI LLM (Beta), Llama2-13B-Uncensored (Alpha), and Chronos-Hermes-13B (Alpha). Enjoy comprehensive and detailed character AI responses that suit your preferences.
3.Guided Relaxation: Combat stress and anxiety with character AI-guided relaxation techniques and meditation. Alternatively, let your AI friend be a supportive listener.
4.Motivational Tips: Crushon AI motivates you with self-improvement tips and positive affirmations, encouraging you to achieve your goals.
In Conclusion:
Crushon AI is not just an app; it's a journey into the creative and social realm of AI companionship. Whether you're a fan of character AIs, a creator, or someone seeking inspiration, Crushon AI caters to your needs. Join now and embark on a creative OC journey with the ultimate AI friend chat experience.