AICamera:AIPhotoEditor is an advanced photo editing app that offers a wide range of tools and features to help users add text to their photos and edit them. With its powerful and easy text editing tools, users can quickly and easily add text and stickers to their photos. The app also uses AI technology to remove the background from photos, making it a fast and efficient tool. Moreover, the app allows users to change the background of their photos with pictures, colors, or textures.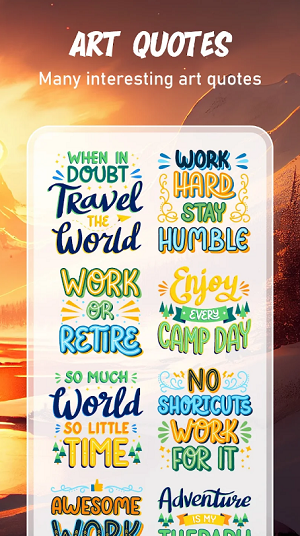 App Features:
1、Simple and Unique Photo Text Editor: AICamera:AIPhotoEditor is a powerful yet simple and unique photo text editor that gets the job done quickly and efficiently. Its intuitive interface makes it easy for users of all levels to edit photos with text and stickers.
2、Social Media Sharing: You can easily share your photos on social media platforms such as Instagram and Facebook, after editing them with AICamera:AIPhotoEditor.
3、Text Font, Style, Alignment, and Spacing: With AICamera:AIPhotoEditor, you can customize the text you add to your photos by choosing from different fonts, styles, alignments, and spacing options.
App Highlights:
1、Easy Text and Sticker Addition: Adding text and stickers to your photo has never been easier. With AICamera:AIPhotoEditor, you can select the text or sticker you want to add and simply place it where you want it on the photo.
2、AI Background Removal: AICamera:AIPhotoEditor uses AI technology to efficiently remove the background of your photos. This saves you time since you no longer need to manually remove the background with a photo editing tool.
3、Background Change: You can change the background of your photos with AICamera:AIPhotoEditor. You can choose from a variety of backgrounds such as pictures, colors or textures to change the look of your photo.