Are you tired of lags and glitches disrupting your gaming experience? Look no further than the Game Booster VIP Lag Fix & GFX app. Packed with features designed to optimize your device's performance, this app is your go-to solution for a seamless gaming experience.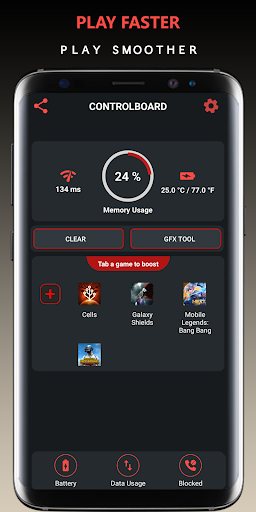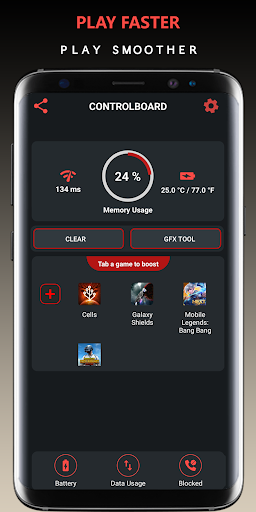 App Features:
1.Organized Gaming: Find and add your games to a centralized list, allowing you to launch them conveniently from one place. No more searching through cluttered app drawers!
2.One Touch Boost: Instantly enhance your device's performance with a single touch. Say goodbye to sluggish gameplay and hello to smoother, faster action.
3.Auto Network Listener Lag Fix: Experience lag-free gaming with the app's auto network listener, ensuring a stable connection for an uninterrupted gaming session.
4.No Ads: Enjoy your games without annoying interruptions. The app is designed with a focus on your gaming pleasure, free from distracting advertisements.
5.Clear Background Cache: Reduce device load by efficiently clearing background cache, creating an environment conducive to optimal gaming performance.
6.Better Game Speed: Elevate your gaming experience with improved speed. The app works to optimize your device, ensuring that your games run smoother and faster.
App Highlights:
1.High Resolution: Boost your game's visuals with resolutions of up to 2560, providing a stunning and immersive gaming experience.
2.High FPS Levels: Tailor your gaming experience by configuring high FPS levels, ensuring a smoother and more responsive gameplay.
3.HDR Game Graphics: Even on older devices, simulate HDR graphics to bring your games to life with vibrant colors and enhanced visual quality.
In Conclusion:
The Game Booster VIP Lag Fix & GFX app is a comprehensive solution for gamers seeking to optimize their gaming experience. With features like one-touch boost, network optimization, and visual enhancements through GFX tools, this app is a must-have for those who demand peak performance from their devices. Enjoy an ad-free gaming environment, clear background cache effortlessly, and elevate your gaming visuals—all in one app. Embrace the trend of achieving higher FPS and take your gaming to the next level with this powerful and user-friendly tool.